It only makes sense for the kickoff post of this blog to be focused on vintage.
The name "The Thrill of the…" is rooted in my love of all things vintage, the hunt for unique pieces, special objects, and the variety of people you come in contact with while scavenging.
You never know what or who you're going to come across and THAT'S THE THRILL!
There are certain characteristics that this tribe of buyers and sellers have in common, and I believe it's a heightened sense of appreciation for preserving history.
As the saying goes, "They don't make them, like they used to."
The injection of history and story into current design gives a space depth and character that otherwise is tricky to portray.
I get excited about the little things. Details like how the wheat stands so delicately on a stack of vintage plates that I should've bought at an antique store in Shelter Island, NY.
If I stopped to take the photo, then I definitely should have made the purchase!
I even love how they were displayed outside on a table where the falling pine needles and dried leaves collected on them. I could immediately picture them on a beautifully set harvest-themed table.
From there, I get excited about what else I would place on that table, candles, linens, botanicals… then it moves to who would be there, what meal I would prepare, and of course what wine we would raise a glass to toast with.
We would sit down to eat and the story of how I came to own these plates would create interesting conversation.
This particular trip last fall was a "girls day" and the first time I brought my then 6-year-old daughter June antiquing with me. All THRILLING! I've since graduated her to the mother of all antique shows, Brimfield, and we had THE BEST trip a few weeks back.
It felt very special to watch her on the hunt. Vendors frequently commented "Gotta start em' young" when they saw us shopping. She even scored a few free items. I'm not sure if they were happy to see such excitement or just wanted to get rid of their stuff…we even snuck in some ice cream!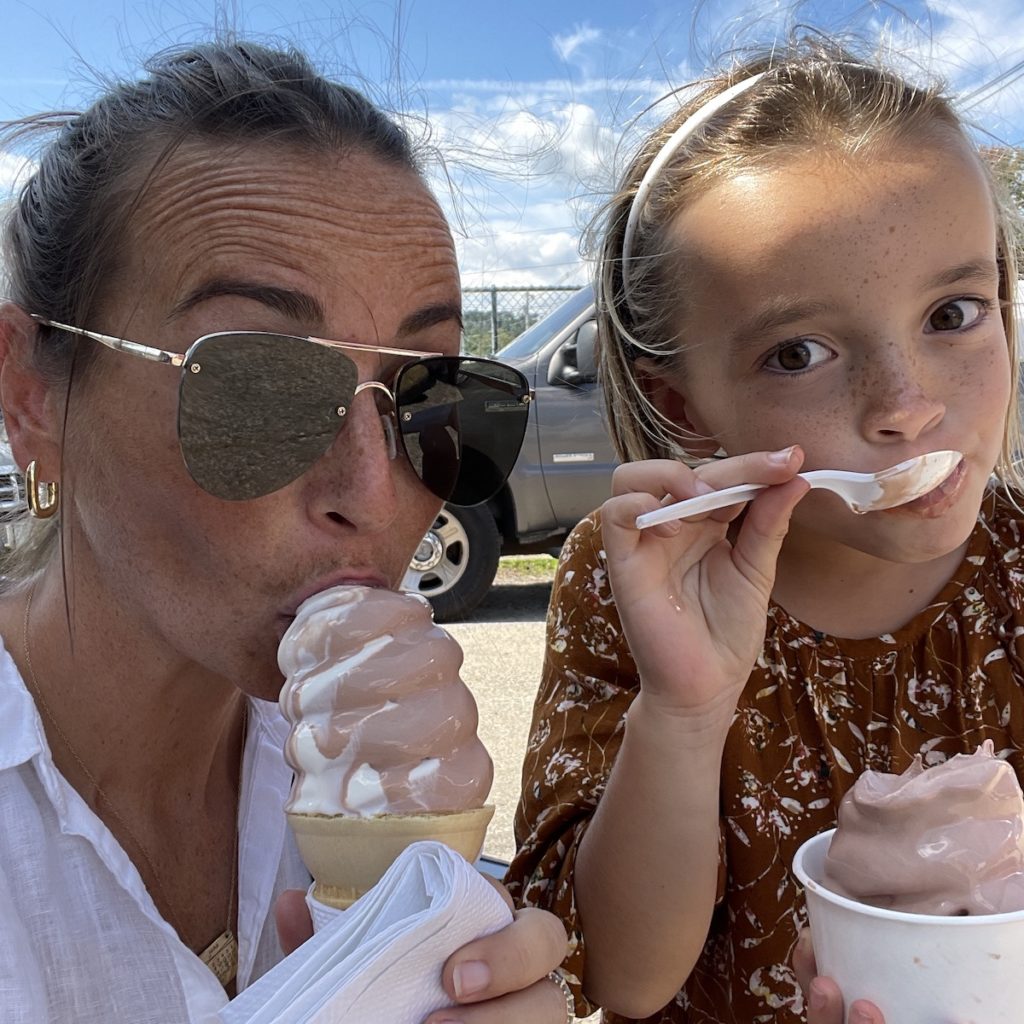 Once I find that something special, the snowball of the story gets rolling.
It doesn't stop until I've crafted this beautiful scene in my head where I've meshed the old with the new and designed an experience to share with friends and family.
I encourage you to find what gives you a thrill, chase that feeling, and incorporate any reminder of it in your home.
Your home should reflect who you are and be your happy place. If you can't be authentically you in your own home, where can you be?
Ready to find the thrill? Let's talk.