I think the word "Luxe" takes on different meanings depending on where you live.
In my corner of the world, East Hampton, NY, we are a beach village where the prices of homes start around 700K and go as high as you can imagine a home costing.
So for me, it's really the tranquil beaches, the beautifully manicured landscaping, and tailored, upscale storefronts that make it feel so luxe.
You have to ask yourself what "luxe" means to you and shape that into your interior.
Maybe you live in a city where glass skyscrapers feel luxe; take that feeling and casualize it by incorporating a glass coffee table softened by books and a vintage urn full of foliage.
Or maybe it's a staircase with glass-paneled railings and a wooden baluster. Start with the fancy and dull it down but still let the fancy shine.
Designing a Hamptons interior actually takes quite a bit of effort to achieve a space that looks like it was effortless.
Finding the balance between that barefoot, California casual living and the opulent stigma that the Hamptons sometimes gets is my favorite type of design.
Think of me as the middleman (or middlewoman). I create spaces that have a few of those special pieces, giving rooms weight and "designer street cred." But I also go to Target and other big box stores (with a sharp eye) to find touches here and there.
There's no shame in my game. However, it's crucial to find the balance.
Using natural materials is always a yes for me.
Linens, solid woods, stone, and always as much light you can bring into a space help fit the mold for casual, luxe.
So many people use nature as their inspiration and I am no different, but bringing in earthy colors and textures is my signature. Any reminder of salty sea air, hot sand under your feet in the summer, tilling the dirt in your garden…I want it all inside, in some kind of furniture, window treatment, or textile form.
I also have children, and a good portion of my clients do as well. This creates that added factor of "Will they ruin this?" Detailed blog post on this to come but for now, my thought and what I always say is that if you dictate every interior decision based on what is best suited for your young children, then wouldn't all of our houses be filled with brightly colored plastic?! Yikes!
Don't freak out, I do consider the children.
Fun fact: I've recently retired from being the PTA President! Children are always a top priority for me, but you can still achieve a luxe look without chasing them around your home with hand wipes.
You might not want to spend 10K+ on your sofa but again….you can find the balance.
Maybe that high-end element is something more durable, like statement tile or incredible millwork or an incredible lighting piece like this lamp by Ukrainian designer Yakusha in the Faina collection.
The Willow Contemporary Table Lamp combines steel, willow, and ceramic and in mixing these materials you get the casual feel of rattan and the luxe feel of black steel.
This lamp will run you about $1800 and if that is just too Luxe, an affordable similar alternative is the Palomino Table lamp by CB2 (which I actually have in my office.) I can attest to its substantial weight and authentic casual/luxe look.
Another good CB2 example is this Ouen Rattan Chair—I love rattan in all forms. Boucle upholstery is having a bit of a trendy moment, but it doesn't take away from the fact that it does feel luxe.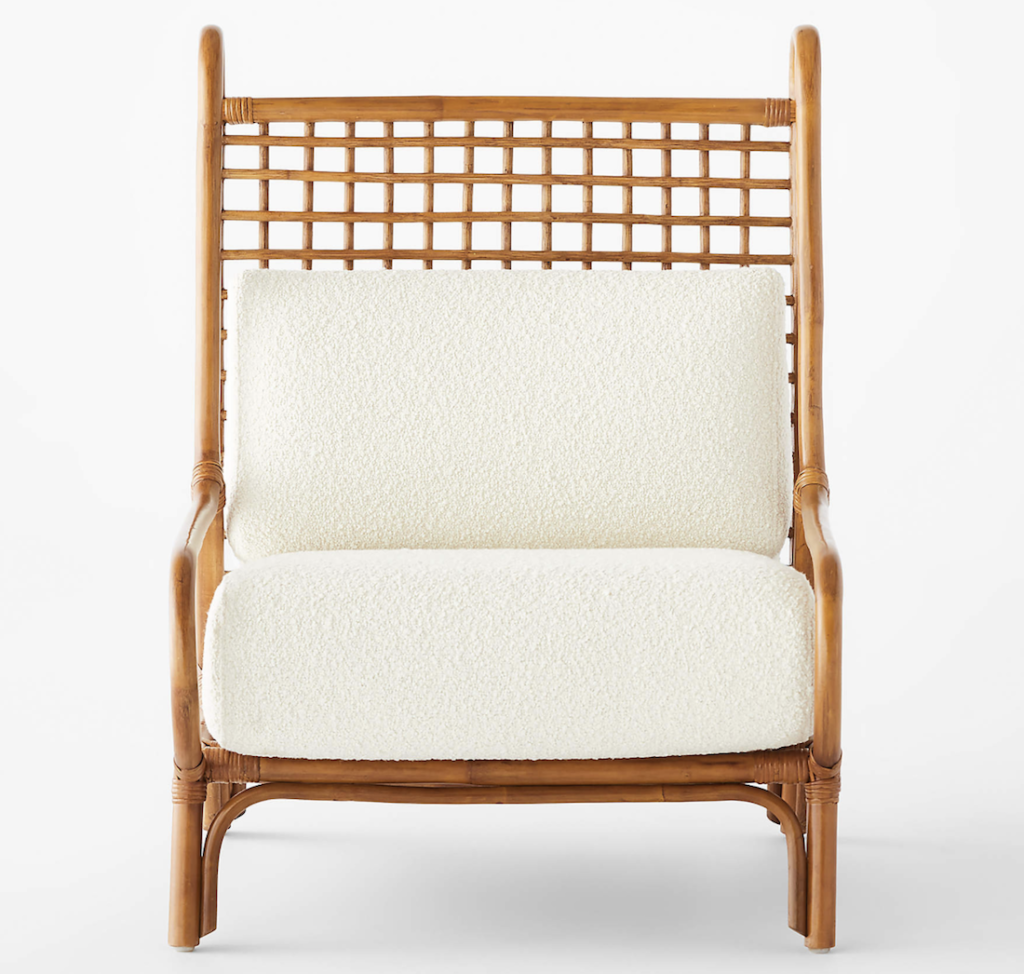 The shape and coastal feel of the chair lends itself to the casual side and ironically, the detail description of this chair states, "Low back and seat cushions are wrapped in soft, textured ivory boucle for luxe comfort."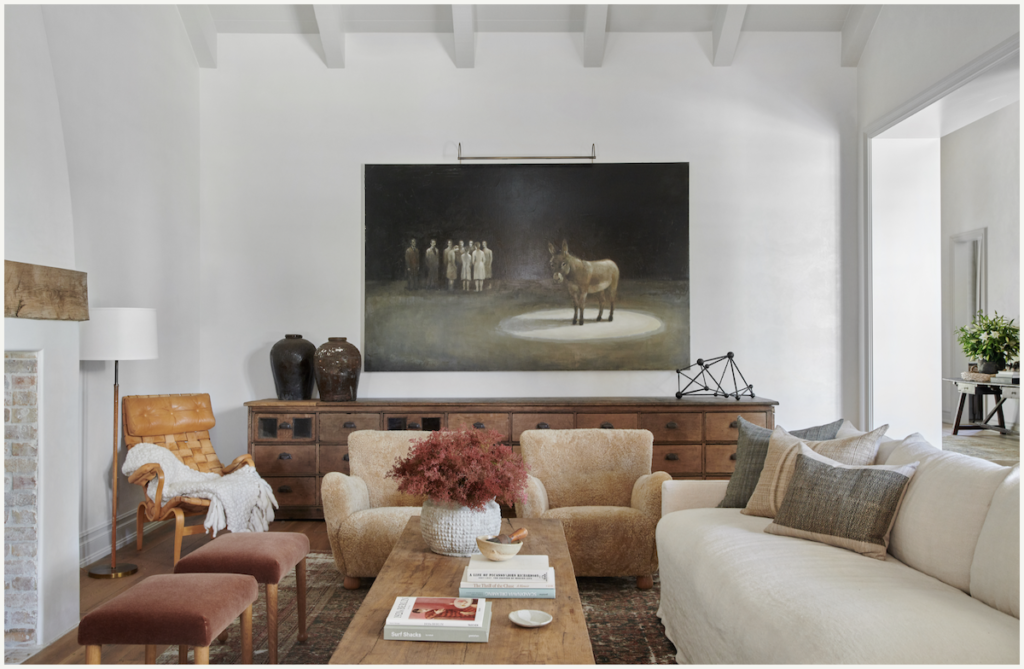 To get the overall look in a room, the queen of Casual Luxe, Amber Lewis, nails it every time. This space blends what looks like velvet, and leather, and shearling with linen and rustic wood.
It's a space where you can see yourself relaxing with your feet up and at the same time thinking to yourself, "Wow, this room feels luxe."
Ready to add some casual luxe to your home? Let's talk.